Energy-efficient window coverings help reduce heating and cooling costs and may qualify for the federal energy tax credit.
Many of today's window coverings are more than pretty—the shades, shutters, blinds, and films currently on the market offer homeowners a variety of sunning and shading options that make a room look nice while giving your heating and cooling bills an extremely green makeover.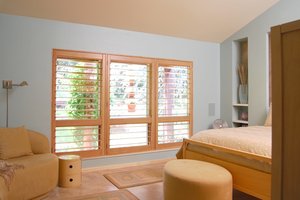 Many energy-efficient window coverings have insulating values of R-2 to R-4, effectively doubling the insulating value of a standard, premium vinyl window with double-pane glass and a low-E coating. An average house featuring 15 windows outfitted with energy-efficient window coverings can achieve an annual energy savings of $150. Expect payback in about 15 years.
In addition to cutting energy costs, some window coverings qualify for the energy-efficiency tax credit. The tax credit offers a 30% rebate on the cost of the coverings, up to a $1,500 limit. The credit doesn't apply to the cost of installation.
To qualify, download a certification statement from the manufacturer's website. Note that not all window covering products qualify; you'll have to research to find a manufacturer whose products qualify for the energy efficiency tax credit.
You won't have to submit the statement with your tax return, but you'll need it and a copy of the sales receipt for your records. File IRS Form 5695 with your tax return.
Honeycomb shades
If you'd like to combine privacy and energy efficiency, honeycomb shades are a good choice. These shades feature a layered design that traps air in individual cells. Because inert air is a poor conductor of heat, a honeycomb shade creates an effective temperature-transfer barrier between the window and the room.
Ann Werner, sales team supervisor for Houston-based Blinds.com, says a double-pleated honeycomb shade prevents energy loss as efficiently as a ⅛-inch sheet of rigid foam insulation. Most honeycomb shades have R-values between R-2 and R-5, although some manufacturers claim up to R-7.8.
The main drawback to most honeycombs and other energy-efficient shade systems is that when the shades are down and insulating your house, they're also blocking light and preventing you from seeing out. One solution is to purchase translucent shades that let light in. But Werner cautions that if you go that route and turn on interior lights at night, the whole world will see the inside of your home as if you had no shades at all. She recommends using drapes to provide privacy when interior lights are on.
For a 3x5 window, a honeycomb shade costs $55-$250.
Plantation shutters
Plantation shutters are fitted to the interior side of a window, and usually are chosen for their aesthetic appeal. However, plantation shutters are also energy-efficient: The Smart Energy Alliance reports wood shutters offer R-values between 2.77 and 3.17.
Both wood and vinyl plantation shutters act as effective insulators, although wood is slightly better at resisting temperature conductivity. Because the shutters fit tightly in window frames, they also block the transfer of heat through air movement or convection, creating a barrier between outside temperatures and your home's interior.
Purchase plantation-style shutters off the shelf, or custom-fitted. Expect to pay $165-$375 to fit a standard 3x5 window with off-the-shelf shutters. Double that price for custom work, such as fitting an arch-top window.
Draperies
Homeowners usually think about drapes as interior decor statements. But Toni Prencipe Korby, a Centreville, Va., interior designer who specializes in window coverings, says the flowing fabric is a great option when you're looking to up your energy-efficiency quotient.
Look for drapes with lining and interlining—blackout lining protects from summer sun and heat, while thermally lined drapes (which have interlining made of thick flannel or other heavy material) shut out the cold. Homeowners in climates that don't often dip below freezing can skip the interlining and save a bit of money, since the drapes and lining alone should insulate effectively.
Like shades and shutters, draperies are only efficient when they're closed. However, if they're used in conjunction with another window covering, such as a honeycomb shade or a wood blind, you can let sun in during daylight hours and effectively shut out colder air at night. When fully closed, the R-values of thermally lined drapes range from R-3 to R-5, depending on the type of fabric and the thickness of the lining and interlining.